Last Sat i went to c movie "Stay Alive" in this new cinema --->>

Cathay Cineplex Damansara

which is located juz next to The Curve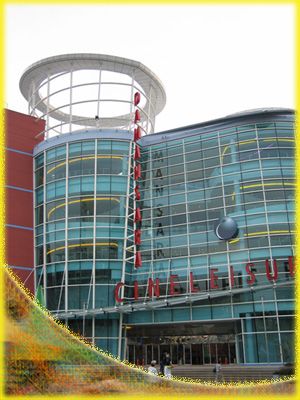 What so special about this cinema??

*GOODs*
1. Their Online Ticketing System
- You can book your ticket days ahead- 21 days in advance! (GSC &
TGV only 3 days in advance)
- Can choose seat (provided by TGV also)
2. Everything is NEW!!!
3. Better sound systems... (a bit too loud for me~!)
4. No bad smells
5. Cheaper car park, only RM1.
6. Latest movie only selling at RM 10 per ticket! (GSC MidValley-RM12,
GSC BTS-RM11,TGV KLCC-RM11)
7. From the website, i found out this ~~> Drive-Thru Ticketing System
We can purchase our favourite movie tickets on the go via our Drive-Thru Ticketing System available at Cathay Cineplex Damansara.No more long queues at the box-office.
(I haven't got chance to try this yet~!!)


*BADs*
1. The official website a bit "cacat" & slow!
2. Those shops in this building is not open yet... only cinema nia!~~
3. Hard to find car as those car park not label wit numbers yet.
4. Others still finding~~

This is the official website for this cinema:
http://www.cathaycineplexes.com.my/index.html