Finally I have chance to visit this restaurant.We went there for Cely's bday celebration. Always heard about "Saisaki" but don't have chance to go, heard that it is still under renovation. Shogun and Sasaiki are under the same management.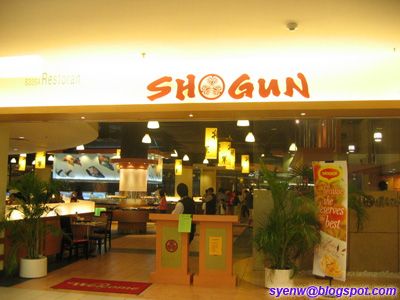 My friends and I reached there around 7p.m.Once got into this restaurant, i was extremely happy to see so many delicious foods around me!!!
These were the foods that i took.

My first meal: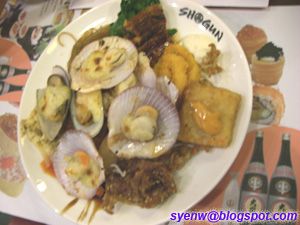 All of my friends laughed at me and said :"Are u ok? So greedy ah... take so much!!! Wan to be 'Fei Po' issit??"

I m really hungry as i only eat 1 PanMee in the morning...

My second meal: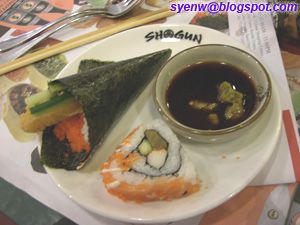 My third meal:
(Getting fewer oh!!~~)
I'm not going to blog much about shogun coz my friend
(
cely
)
already blog about it...
I saw something special in Shogun --> Maggi Mash Potatoes Machine
Wow... nvr c this machine b4... It is very easy to use, only 2 steps needed.
1. Place a bowl to the machine and press button 1 .
Mash potatoes will pour into the bowl...
2.Wait 5 seconds and press button 2 for the gravy (sauce).

*Anyone see this machine before? where u see it???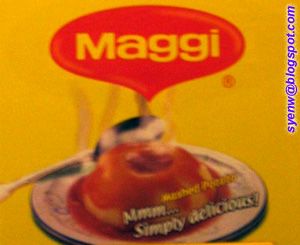 This is really a nice restaurant... worth for a try...
Those who have interest to visit this restaurant... here is the add and tel no.
Make a reservation before u go to avoid long queue. :)

SHOGUN JAPANESE BUFFET RESTAURANT
Lot S 335A, 2nd Floor Oval, I-Utama Shopping Centre,
No: 1, Lebuh Bandar Utama, Bandar Utama,
47800 PEtalingJaya, Selangor D. E.
TeL : 603-77263770 (Hunting Line)
77265770
77280770
Fax : 603-77289770
Business Hours : Lunch (12.00 noon - 3.30pm) and Dinner (6.30pm - 10.00pm)
Adults (Lunch) : RM43.00
Adults (Dinner) : RM48.00
Adults (Weekends and Public Holidays Lunch/Dinner): RM48.00
Children: Half price